Well, that was "fun," IRONMAN California done and dusted and my first 70.3 race of 2016 complete!
This was my second time racing Oceanside and my fourth time racing the 70.3 distance. I improved my times from last year on this course and I couldn't be happier. The best part about the race, I found myself smiling through the pain the whole way through. Every smile I made on the bike my body relaxed, every smile I made on the run my stride felt more efficient. There were definitely some moments of F this, why do I race this distance, but I think thats every race no matter what the distance. My biggest improvement was having fun and supporting my competition when things were getting tough to keep moving forward. I don't like being passed on the run nor am I going to allow it to keep happening. I'm looking forward to putting in the time to improve my agility and trusting myself as a runner.
RACE DAY PREP IS THAT MOMENT YOU REALIZE HOW MUCH TIME IT TAKES TO PREPARE FOR ONE DAY.
WHICH IS REALLY ONLY A FEW HOURS OF RACING AND EXCITEMENT.
WITH THOUGHTS OF WHY AM I DOING THIS IN THE FIRST PLACE.
WHY DO I SPEND ALL THIS MONEY TO HURT LIKE THIS?
YOU THEN FINISH THE RACE ON CLOUD NINE.
SPEND THE NEXT WEEK RECOVERING AND ACHING YOUR WAY THROUGH WORKOUTS.
AND THE PROCESS STARTS OVER AGAIN IN PREPARATION FOR YOUR NEXT RACE AS YOU FORGET ABOUT ALL THE HATRED YOU HAD FOR THE PAIN YOU EXPERIENCED IN THAT MOMENT WHEN YOU SAID I AM NEVER DOING THIS AGAIN.
Arriving to the harbor with plenty of time to get organized, I took my time laying out my gear in transition and making the usual stroll to the porta potties. It was about 6:30 and my wave start was at 6:59. I passed the porta potties and made my way to the waters edge as I thought peeing was all I needed to do and I would be good to go. Took a nice pee in public and starting heading back towards transition. Then it hit me, maybe I should make sure I don't have to poop. I waited in line patiently for a last minute colon check up when I hear over the loud speaker they were closing transition at 6:45. Shortly after that the Mens pro wave gun goes off meaning it's now 6:40 and the race is officially underway. I wasn't too worried about it as I slowly made my way to the front of the line and eventually making it out of the little boys room heading back to transition around 6:45. I had to work my way passed the herd of athletes corralled together with literally no room to move let alone breathe amongst the nerves of a bunch of intense triathletes awaiting their wave starts. I made it to my transition area immediately grabbing and applying body glide along with vaseline to avoid chaffing and creating slippery ankles. I started putting on my kit that I had half way on, suited up and immediately put on my wetsuit with a last minute vaseline bath in all the right places while making funny faces at Katie while she snapped pictures of me with basically no one else around in transition... I double checked all my gear was good to go, turned around to head to the race start as I see hall of fame IRONMAN legend Julie Moss. I stopped to say hello, picked her up, gave her a big hug, paused for a couple quick photos, and wished her luck in the race. I was about to hop the fence to get to my wave start that was already right up at the front of the corral. I was immediately stopped by a race director telling me hopping the fence was not about to happen. I smiled and said, ok, I totally get it and I start my run to the other end of transition where all the other athletes were being herded. Again, working my way through the cattle was my next battle, I stayed calm, put my hands in the air and kept saying excuse me coming through trying to be as skinny as I possibly could and avoided being the obnoxious guy screaming, MOVE PLEASE!! MOOOOVEEEEE PLEEEEASSSEE!! After making my way through wave 23-14, mind you there were 3,253 participants. There was a gap in the corral that the race directors created for the men's and woman's pro field so they had room to run through transition. This helped me get closer to my wave as I hear Mike Reilly, the voice of IRONMAN, say, "Topher Riley, where are you, put your hand up if your here..." HAHA I start laughing because this meant my wave start was clearly on the ramp and about to head out to the buoys as I say I'm right here laughing out loud because I am still working my way through the cattle... I have Known Mike Reilly since I was a little kid if you're wondering why he was calling my name over the loud speaker. Luckily there was some room to get by as everyone was herding to one side of the corral. I made it to the waters edge, Mike Reilly says, "Where are you Topher Riley," as I turn and wave with a smile, and laugh a little, I put my ear plugs in, throw on my swim cap, get my goggles on, with one last wave to my parents who looked shocked and confused with what the hell I was doing starting at the back of pack, the last athlete in my wave to start swimming towards the start line buoys... What was I doing??!?!?! I was cruising!!! I leisurely swam to the buoys and positioned myself in the second, if not third row of athletes. I wasn't in the mood to play water polo with the guys in the front of the pack. I turned to my left and saw Brady Bailey, gave him a big hug and wished him luck as they announced 30 seconds to start. I thought to myself, I made it to the start line, no jitters, no butterflies, it's go time, I start my Garmin and patiently wait for the gun to go off. BANG!! OFF goes the gun and the 2016 IRONMAN California 70.3 18-24 and 25-29 age group wave start was underway!
This year I have been doing a lot of long kick sets, long endurance sets in general so the swim doesn't worry me to much. Could I be faster, yes! Considering I felt fresh coming out of the water and found myself in cruise mode throughout the swim thinking I was going to have a slow swim, I surprised myself with a 30:05 swim and ended up swimming 1.33 miles according to my Garmin putting myself in 10th place in my age group! I may have zigzagged a little bit somewhere through out the swells and sea of humans that started ahead of me. I found a comfortable glide that made me feel like I wasn't working to hard. So far, every 70.3 my swim split has been uniform across the board, 30 minutes and change. With a cramp in my calve at St. George, a lack of drive to want to "race" "race" at Vineman, I think there may be room for improvement on my swim splits. After noticing a lot of people's swims were a little slower this year compared to last year. I was very happy either way with my swim split and I look forward to smashing this swim course with a bit more fight next season!
WHO SAYS YOU CAN'T HAVE FUN AND WAVE AND THROW SHAKAHS TO FRIENDS AND FAMILY DURING THE SWIM?
WITH THE SWIM OUT OF THE WAY IT WAS TIME FOR ME TO GO TO MY HAPPY PLACE...
WHEN IM ON MY BIKE, THERE'S NO PLACE I WOULD RATHER BE...
Running out of T1 smiling and laughing sticking my tongue out to mum, dad, and Katie as i do a flying mount onto my bike and my seat slips about an inch as my "fat ass" lands on the seat hard and aggressively. My initial reaction to this is, "Uh oh! I'm going to need to pull over and fix this." This is not going to be an easy bike ride in this position. I started turning over the pedals, got up to speed and started to get my feet into my shoes. A year ago, this situation would have ruined my enjoyment of the bike course and I would have pulled over within a couple of miles. But as I was riding and playing around with different body positions on the saddle I found peace in the uncomfortable and looked inside of myself to make it a positive misfortune. I took the first 20 miles very conservatively yet still making up time on my competition. I know the bike course and I know I can ride a bike. I focused my energy on high cadence and control while making sure I got the right amount of calories and took in enough salt. This is the first race I haven't lost a bottle of nutrition on the bike. Im not sure whether my mind or body suffers more when losing a bottle of nutrition, personally, it mind F@&!'s me, then my mind F@&!'s my body. I found myself smiling while acknowledging anyone I passed and anyone I played cat and mouse with I encouraged to keep pushing. There were definitely moments of, ok mate, time to go if you're attempting to make a pass because I'm not slowing down and having to remake a pass to prevent drafting is not a game I like to play. I eventually made my way into the back end of the woman's pro field, watched a few athletes completely ignore the 25 mph speed limit zone, and spent the last 15 miles all alone eventually catching Carlos Santiago 18-24 AG from my wave start that I know has a killer run split always! At that point I knew I was having a solid bike, I felt great, no fatigue like last year, I wasn't having to sit up to stretch constantly and I was looking forward to running... WEIRD, I was genuinely excited to run. This was my first race on my new bike and I had the same exact bike split as last year.. literally, on the dot... 2:24:20 and biked my way into 2nd place in my age group on a no name frame, no name wheels, accompanied by SRAM red etap wireless shifting.
HONGFU - YOELEO - SRAM - XLAB - GARMIN - BONTRAGER - TRP
I hear people talk about buying speed when buying new bikes, wheels, so on and so forth but you are the engine that drives the machine .
Yes, my helmet is sitting funny on my head, I prefer my shield to not get foggy running out of transition and looking like a barney is something I'm really good at...
If you can't tell by the photos I was having a lot of fun...
Then it was time to run! I came out of transition full of life happy as can be and putting all of my focus on slowing down. My first split was 6:37 and in my head if I kept that pace going I was going to buckle early on in the run. I was trying to run 7 minute mile pace and checked in with my garmin a little too much seeing my current pace was always under 7 minute miles so I kept slowing down with the mental block from allowing me to let go and just run! JUST RUN YOU IDIOT!! HAHA, I was having too much fun running, smiling, saying hello to friends, fully capable of talking means I could have been pushing a bit harder but I wasn't looking to kill myself nor did I want to ruin my season with injury. I slowly slipped into 3rd in my age group, then to 5th, tried to keep it going but mentally I didn't have much in the tank. I eventually slipped back into 6th place when Reid Butsko made the pass at mile 8. Still not sure how I stayed in front for that long. Reid had made a pass earlier on when we were heading in opposite directions of the course warning me that he was coming. I laughed and responded with an I know you are as he looks fresh, bouncing along in typical Butsko fashion. When Reid made the pass I let him know where he stood in the race in hopes he could catch the guys ahead of us. As Reid started pulling away I did all that I could in the moment to pick it up but couldn't justify the hurt with where I was positioned in the race. I was enjoying my control, enjoying my moment, my race, and that was good enough for me. There were signs of fatigue and serious slowing at mile 9 and even slower at mile 10 that really brought my averages down towards the end of the race. This was about the time I was spotting the competition as they made the final turn around heading for the finish and I started counting the separation between them and Reid. I multiplied by two to give him a rough calculation on how much time he had to catch them. I see Reid and cheer him on as I scream its roughly a 2 minute gap, you got this. My fatigue was starting to show as I reached mile 11. Just before mile 12 a runner with the age 27 on his calf makes a pass. I had had enough being passed on the run and it was time to work. I picked it up to fight for position. I ran hard on his heels from mile 12 feeling strong waiting to make a move as we entered the finish shoot lined with spectators. As I untucked from his draft to make my move we both start sprinting, gritting our teeth while spectators, volunteers, family and friends start cheering louder the closer we get to the line. It was an exciting finish to say the least finishing side by side with tenths of a second between us, as I fell back another position finishing 7th place in my age group.
It's safe to say I had more fun racing this event than any other race I've participated in and I think the smiling had a lot to do with it. I know I can run more aggressively if I keep putting in the work but I am super stoked on my race and I have nothing to complain about. 2016 is off to a solid start!!
A cheeky passing on the run course from friend and fellow age group competitor,
"I'm coming for you."
-Reid Butsko
Thank you to the volunteers, spectators, friends, family, and everyone else that made this day so much fun and awesome to be apart of! It's days like these that make life worth living, we are all one.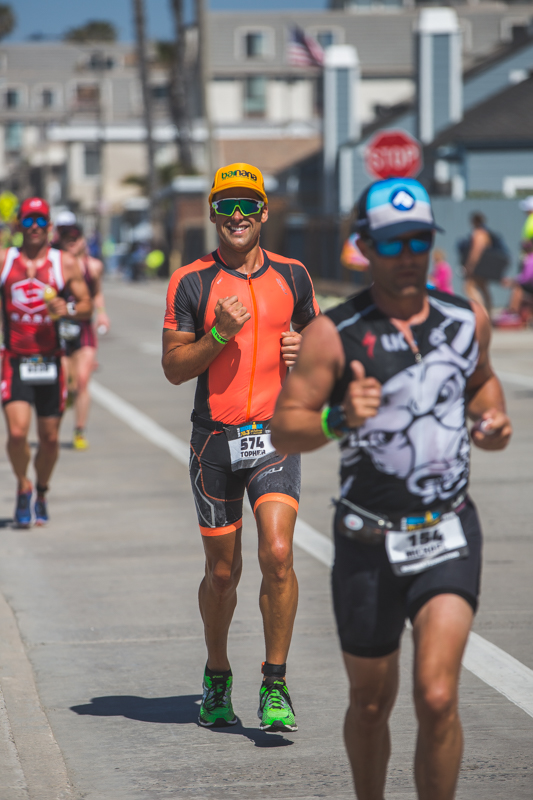 Always a pleasure chatting with Julie Moss. All around amazing person and can't wait to see her keep racing this year!!
Always a good laugh with this guy and crushing it with the new Oakleys! Jocking my style with that shirt mate...
Brad brought me some laughter while on the run course and captured this snap!